Conference Participants are invited to join the Conference Dinner Cruise on the exclusive Rubin Boat! The modern, three-floor party boat provides with her ambient lighting techniques, elegant interior and stylish exterior design the perfect venue for our guests.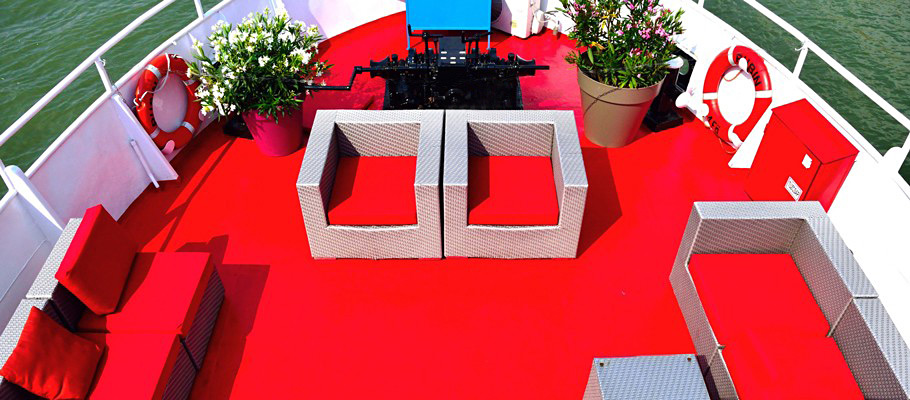 While aiming to make the conference a forum for intellectual recharging, AKCongress also seeks to dedicate sufficient time for relaxation and networking. During each of our conferences we offer a dinner, a popular form of which is a cruise on the Danube combined with a seated buffet dinner. The evening panorama of the river with its magnificent bridges, the Budai Castle and the Parliament provides a memorable experience that you can enjoy from closed or open decks as well.
The program lasts four hours.


Venue: Rubin Boat
Date: November 6, 2019 / 19:00–22:00
Price: 65 EUR / person
Pre-registration for the Conference Dinner Cruise is required on the registration site.


We invite you to come and be part of the event. The tickets can be purchased in advance through the registration system. Only a very limited number of tickets will be available at the conference venue as we need to indicate the number of dinner participants one week in advance.

The following menu - accompanied by cosy background music and unlimited drinks - will be served during the dinner:

Cold and warm starters
Tapas and antipasti platter, G, L, V, VE
Buffalo chickenwings, G, L Blue cheese souce, G / Fresh vegetable batons, G, L, V, VE

Soups
Minestrone , G, L, V, VE/ Grana Padano, G, L
Tarragon chicken ragout soup, G

Main courses
Salmon steak, G / Buttered potato with spinach, G, V, VE
Leg of chicken in lemony thymmy souce , G, L/ Grilled vegetables, G, L, V, VE / Jasmin-rice, G, L, V, VE
Grilled fresh "Gomolya" cheese, G, V/ balsamic olive fresh salad, G, L, V, VE

Desserts
Tiramisu / DiSaronno Amaretto, V
Panna cotta / black currant, G, V
Fresh fruits, G, V, V, VE

If you are following a special diet, please indicate it on the first page of the registration system or contact us at the following email address: This email address is being protected from spambots. You need JavaScript enabled to view it..